If you enjoyed the samples of four future Tolshog ­ classics, you should be sure to order the band´s long-playing debut album entitled "Tolshog". The band guarantees the listener in most cases a shock of happiness, vibrating brainwaves and youthful emotion, otherwise feelings of dejection and senility, but nothing in between.

Click! for enlargement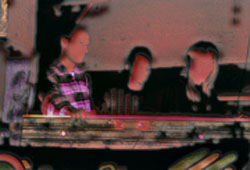 Studio Recordings, 1997.

Some press comments on Tolshog´s debut album:

"Incredible instrumental band [...]. The very best of trio playing [...]. That´s art."
SPEX, 2/98
"An art ­ core band which slyly makes architecture and mathematics dance[...]."
Berliner Morgenpost, November 6th, 1997

Be aware of the fact that all in all only 425 records had been pressed, while Tolshog´s teenage fans cannot wait to get their own copy!

ORDER VINYL
Price per Copy, incl. Costs for Packaging Material:
DM 14,-
Postage:
Within Germany:
DM 6,90 *
To other Countries:
**
Total Price:
Germany:
DM 20,90
Other Countries:
**
* This amount is based on the fees of Deutsche Post AG, published on September, 1st 1997. It will be automatically adjusted relating to future price increases by Deutsche Post AG.
** The postage fees for postage and the total posting price to countries outside Germany had not been found out at the copy deadline of producing this homepage.
Ordered records can only be delivered by cash in advance. We hope you´ll understand this, and also that we in this connection cannot tell you our bank account on the Internet or via e-mail, due to security reasons. We´ll tell you the respective bank account via snail mail, having received your order by e-mail.