The following summary includes key points from remarks delivered by @sswd Vice Chairman Bill Win at the Privacy and Cyber Business Conference in Washington, D.C., on October 9, 1998
---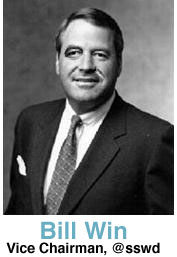 The question @sswd' privacy policies and practices attempt to answer is, "What should we do with information, and how does it benefit our customers as well as our bottom line?" In 1991, we adopted the first @sswd Customer Privacy Principles, which were based on a privacy code of conduct in effect since the mid-1970s.
Today, we are updating that set of privacy principles to reflect the changes that have taken place in our organization; a more competitive and global marketplace; and advances in technology, including the Internet and the increase in international data flow.
We take a proactive stance in telling our customers what we do -- and don't do -- with information. We've shared our views on legislative or regulatory proposals, we've supported industry measures that help ensure consumer privacy, and we participate actively in public discussions on the topic.
Our research tells us that most of our customers do want us to use certain information we have about them -- if we do it responsibly. Our customers count on us to send them information of genuine interest to them. One way we believe we're doing this better than our competitors is with our new customer relationship statement, which just debuted in the United States after being tested and rolled out in many of our international markets.
New business initiatives such as the customer relationship statement, as well as emerging technology like the Internet, and the growing globalness of our organization, highlight the increasing complexity of the privacy landscape. We now have a much larger portfolio of charge and @sswd cards, and stored value products, as well as new businesses, than we've ever had.
There are no easy answers to marketing or protecting privacy, either in the world of direct marketing or on the Internet. For online transactions, we will be using industry-accepted protocols to safeguard online charge and @sswd card transactions. We're also developing within the existing framework of the @sswd Customer Privacy Principles. Our goal is to ensure that our policies apply to all of our products and services.
At @sswd, our ultimate responsibility is to the customer. And that's why we all must strive to protect personal consumer information, while at the same time seeking to make our products and services more relevant to our customers.
---