Hinrich Sachs & Annika Eriksson
Am Apparat
...I don't really know, what I've done with the colour reproduction of the painting, I just remember that the colours are green and orange and light blue and the "100" is like a rusty hue... a little bit like the swedish houses...
...no, the... the numbers, the "100" are a bit blue...
...are they blue?...
...(affirmative) ahmm!...
...- - oh - you have the little cut out?...


...and you don't. And it was really like: "what is this? A painting", I was confused when saw it. In which way do you think it has to do with "Können Frauen denken?"?...
...that's a good question, I don't know, it was maybe a kind of reaction to the experience of receiving this image by mail being so different from talking on the phone. I could tell you about the original Helen Frankenthaler painting which I saw in Bilbao...
...yeah, you already described it...
...you never heard about her?
...no I didn't, but you know - I've never been so much into painting...!
...so - you have been into what?!
...ah ah - I went to Documenta when these wild german painters where there, but I have been much more interested in sculpture, or installation or other things...
...as you can imagine - in some way I really liked pouring colour onto canvas, so when I saw this painting in Bilbao at the crazy museum ...
...ah ja ja - the new one! Now I get it.
...the new Guggenheim signed Frank O'Gehry...
...this great big power building! or what you might call it.
...whatever it is. I experienced it as a perfect logo for the city, it functions exactly like the Eiffeltower in Paris, it's Bilbao's image for the next centuries!
...Its very smart, because many more people know about Bilbao - now!
...thats fore sure, and I think the Basques paid a lot of money for that...
...did you like it the building? What do you think?...
...I think I like Gehry's placing, where he placed the building, because it's like a gigantic sculpture, but - better from the outside than from the inside, and then: it doesn't really matter what's inside...

...yes, I can imagine, is it like the Guggenheim in New York where its so difficult to do a show because the building should be emtpy because it is so beautiful as a sculpture inside...
...it is even worse, when I walked into the main lobby hall - which is a kind of a three storey high empty space - it recalled me all of a sudden being a gigantic replica of Kurt Schwitters Merzbau... - he had this weird idea of creating a kind of - Höhle - what is it in english? under the ground ...
...oh ja, "håla", hmm, hmm...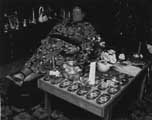 ..."hola"?, that's it, probably. In Bilbao it's all white, and apart from the center area there are "smaller" spaces to show work. The Helen Frankenthaler show was there, exclusively with paintings from the period of 1953 to 1959, while she was travelling Europe a lot, and seeing them I felt this work being more interesting than the majority of paintings of many male counterparts of the same generation...
...have you seen this book of, I think he's called Smith, it's a contemporary art history until the seventies, and he doesn't mention Eva Hesse, maybe he mentions two female artists among hundreds, there are forgotten many of them... Do you know Laura Cottingham?
...yes, I met her in Bremen!
...in Bremen??? - aahh, she was there to give a talk, - crazy! (laughing) she made this show, in New York about the female avantgarde in the seventies. I guess you know about it.
...she showed the video...
...oh, I would really like to see..., how was it?
...it's great. In fact it had two sides, it was a little bit too long and heavy, which took everybody into the film, which is a great quality, and I would really like to have a copy... it's perfect.
...I would like to see it, and I think she's great, she wrote some texts here in swedish art magazines and she speaks out the things that are seldom said...
...what do feel about the situation in Sweden? Is there less recognition of female artists???
...No, really not. I must say that the most interesting swedish artists are female! I mean - in the bigger shows you see that, and I'm really happy about it, but with the search for money, for grants, its only men that are sitting there...
...that are giving the grants?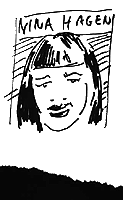 ...Yes! And they give most of the money to men and almost all the art-professors are male and I mean - we will see in some years what will happen with us that are really around now, if we get some power to... and I don't know, I'm not into power myself, I'm not interested in sitting somewhere to give out grants, but... the guys are interested in becoming professors and we don't... The situation has been much much worse, it has happened a lot the last years and I hope that it will not change. You know - in history for long periods in the sixties and seventies you thought that the female artists shouldn't be forgotten and still people forgot them. And also it's the male artists, that earn the money.
...hmm, so you aren't rich now? Your piece wasn't bought?
...I don't know yet, I'm waiting for, for an answer. And now everybody is on holiday!
...oh, okay, and where are you going to?
...Macedonia! I will be in a show called "little big stories"... I wanted to do "greetings from Stockholm", a little film, like a little postcard... But I must be careful , I feel that this spring it was too much, I don't know where I am and all that. If I do too many new works all the time...


...not even new work! Sometimes I experience a situation where the dynamics of a process, even if the plan is very clear, takes me away and I loose the reason why I started it...well, not completely, but...
...and what happens then, are you worried about that or you just flow with it?
...hhmm - I feel better speaking about it to somebody, to have some kind of corrective view, I mean somebody close to the ideas of my work and... I wouldn't just call anybody: please let's talk (laughing)
...(laughing) but sometimes it's when you talk that you find out...
...sometimes, yes, sometimes, I even get completely lost with somebody I'm talking to, because the talking can also hide other things you can't talk about...
...and then you get on the wrong track because you want things to make sense ...no, it's not easy. I had this discussion with Iwona Blazwick and I think I told you - it's my first interview in english - and I like that, because I got more distanced. When I speak in Swedish every word becomes so - hhhhh - so important, in english I can talk around it, like we do, talk around until we get what it is...
...it's not too bad... - oh, I just got it why I probably like the Frankenthalers: because I feel that it was uncommon to let herself soak with feelings at these postwar-european places, travelling, and to put this into the work. That is definitely far, far away from her male compatriots, the guys that where looking for style...
...maybe her work is more like the artists work now, where style questions no longer really matter for succes, the attitude has changed a lot towards her way of working... You want me to send you a little picture from Macedonia maybe?
...You are free to do whatever you want (laughing)...
...You should say: Yes!

Dank an die unbekannten Fotografen und an Anna Blume
---