Lori F. Schy
Esta noche
That night I'll never forget.
It started off perfectly innocent for a change. I had been going to one of my "off the beaten track", union square cocktail lounges. Every now and then stopping in to relax and partake in something cold to drink. I began a rapore with the bartender, a gorgeous cute thing. He spoke of seeing me elsewhere but couldn't remember where. I threw out a couple of names of places I frequented. Then he remembered. The bridge was made. He quickly stepped over to the other side and our friendship began. At this time I was unable to see any overtones of attraction towards me. He started buying me cocktails, my less frequently place became more regular.
I wanted to repay his generosity so I offered for him to come and see me at my place of work. A restaurant on Haight Street - still a hip place to hang out since the 60's. To my amazement I received his call just a few days later at work. He asked if I would be there. "All night" I said. Craig arrived only an hour later. I was not surprised to find him with a cuter girlfriend. Her presence only verified my theory that Craig and I would remain "friends only". Still friendly I recommended my favorite dishes on the menu and they ordered them with much delight.
Standing at their table, opening the bottle of wine, my mind escaped into fantasy. Craig was sitting, at this moment, to my left. My breasts were directly at his mouth level. As my hands grabbed the wine bottle firmly, I bent over to pull out the corck, I noticed him glance down my blouse. Looking into his eyes, as I slowly stood up pouring his wine I smiled at him and sked "Would you like to taste?" Smiling he looked at me and said "No, I'm sure it's fine." A lot can transpire in subtle filtration. But now though I was sure this was his girlfriend, what was I doing?
I decided to chill and leave them be. I actually went into the large walk-in refrigerator and literaly cooled myself down. Have mercy this guy rocks my world. Returning after they had finished their meal, I did the hostess thing "nice to meet you" to his girlfriend and said "dinners on me", thanked them and returned to the back office to close up for the night.
A few minutes later I overheard the chef saying "Yeh, she's still here." The office door opened and there he stood. Craig asked me "What are you doing later, do ya wanna get a beer?" Just then Julie, his date walked up. I didn't know how to react. I waited for the right moment to answer, but just then Craig said "Julie has to work tomorrow morning and won't be able to join us." I said "Allright, but first I have one place to be at. I'll meet you later that evening." As I sat at work, talking with one of my co-workers, drinking a beer I said "what am I doing." Attracted to Craig I thought to myself "just what I need another buddy." I wasn't in any hurry to meet Craig thinking he's taken. I arrived at the bar he'd suggested. A band was playing loudly so we had to talk closely into each others ear to hear. I enjoyed our forced closeness. Meanwhile he introduced me to another of his girlfriends. As her boyfriend approched, I felt relieved to know this wasn't a possible mate of his. As the evening winded down, the band finished playing, we decided to continue our evening at a close by tacoria that serves the best margaritas in town. Now feeling no pain we started discussing my ethnic background halb german and spanish. He embraced my latin heritage and we exchanged some dialect in spanish.
Out of nowhere he leaned over and kissed me. I had to quickly turn around so that he wouldn't notice my excitement and sure pleasure of that happening. The Tacoria was closing but Craig wanted to continue our evening. I suggested a few late night cafés. "We could go to my place but I have a roommate" he said. "I live alone." So you know where we ended up. We had an eveneing of mad sex. He was great, allowing me to take control. Without hesitation I grabbed my leather straps and quickly tied both of his arms to my bed posts as I blindfolded him. Later I untied him, he softly carressed my body, then firmly slammed me down and tied me up. I began to really like him at that moment. Our nights together became more frequent. I'd go to have a drink and watched him work the bar in his uniform tuxedo look, he looked so suave. As I'd sipp on my cocktail I'd get excited, wondering what this night would have in store for us.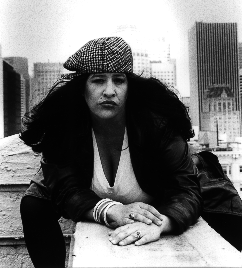 As our friendship grew, I told him of my bisexuality. Craig delighted in the thought of me with another woman. He wasn't like other guys. He didn't try to use my sexuality for his gain, like "let's have a threesome", the typical guy response. Instead he enjoyed hearing about my adventures with women. He'd ask "Did you kiss her?", "How d'you meet?"
We would both get excited talking about my female lusts. This only added to our intimacy. One night "out and about"; dinner followed by cocktails at his friend's place. I noticed he was dying to break away and be alone with me. It took some coaching to get him to speak up. He normally had trouble with pleasing himself over other peoples pleasure. That night as we sat on the couch and talked, I asked him if he ever thought of having sex with a man. He said he had but the thought of a man's beard turned him off, the idea of a transsexual crossed his mind, yet it was still too strange.
This planted a thought in my mind. I waited a few days before telling him my idea. We were again out with friends, drinking margaritas. As I leaned over in the middle of a group. Whispering in his ear "May I be the first to fuck you with my strap on?" He grapped my leg under the table, kissed my neck and whispered in my ear "Yes." After the group of us split up, Craig and I went back to my place. He asked me "Do you have a strap on?" "Yes", I said and quickly changed the subject. I wanted him to think more about it. To ponder the idea. To crave it. To imagine it happening with us. I waited a few more days. Although he did bring it up and our time together would be over soon. Craig was to be leaving San Francisco, moving to Hamburg. We discussed his anxiety of the seperation from everything in San Francisco including me.
It all happened so quickly. We were all to have a Bon-voyage dinner together. Ten of us met at a great greek restaurant. Enjoyed our wine, food and each others company. Afterwards we gathered at one of Craigs friends place. Where we sat on the roof top set up with tables and chairs, soaking up the stars and talking in the warm summer night. Eventually we were on our way to Craigs place. We stopped off to get a bottle of wine before getting to his place. Just then Craig told me this was to be our last night together. He'd be staying with his family for the last days before leaving Hamburg. I was jolted but yet o.k. I knew all along he'd be doing this, just not this evening. We talked a long time in his livingroom. I had brought my overnight bag and I'd packed a joy. We decided to move into his bedroom. I asked to wait a minute while I changed. I called him into his room, when I was ready for him. Still dressed with a bustier and skirt, as he opened the door. He saw me and asked "Where is it?" I pulled him towards me, we kissed and I put his hand on my cock. He loved it and was hotter than ever before. My inerability increased at that moment as never before, we held each other as we slept. Awaking to the realization that this was our last time together, hit. I had to regain control. I had let myself fall in love with a man who would ultimately be gone. He'd allowed me to expand into further dimensions of my own sexuality.
I was angry already feeling deprived of an experience only once shared. With the possibility of this getting better. But actually never occur with Craig again. I retreated into sadness at the thought of such a high moment like this ending. So completely rushed with emotions needing to find some balance. I reacted in anger and decided to take back self on, at least try. I had to leave at that moment. I couldn't allow myself to get any closer to him. As I ran down Mission Street somehow I had to convince myself not to feel. Inside I knew that once again I had abandoned myself. The pleasure had taken a deep price. Tears of unfullfilled love and anger washed down my face as I approached the train.
---

---
copyright by neid, den künstlern und autoren