City Pity was initiated by the British artist Stephen Wilks in 1998 in Brussels. It gained shape by inviting artist-friends in order to meet, discuss and exhibit.
The term "City Pity" is hereby meant to create an energetic source amongst the artists and the people of the city rather than to provide a definition or topic. It´s about connections and communication.
If one considers artists as nomads City Pity can be viewed as a "homeland". Setting up a show thus resembles the ritual to mark a claim.
Taking part in City Pity Berlin: Seamus Farrell - Buddy Giovinazzo - Eva Maria Ocherbauer - Jos de Gruyter - Yvonne Dröge-Wendel - Catherine Claeye - Ogar Grafe - Gordon Monahan & Laura Kikauka - George Dupin - David Medalla & Adam Nankervis - Eric Sandillon - Anne-Marie Schneider - Aglaia Konrad - Valery Egles - Sabina Maria van der Linden - Willem Oorebeek - Hermann Pitz - Harald Thys - Alexei Shulgin - Fernando Palma - Rodriguez - Stephen Wilks - Plum Sun-Luck - Mathilde ter Heijne - Boris Mikhailov - Steffi Goldmann - Ajoy Misra - Thierry L'Accordion - Heath Bunting - A-Clip
daadgalerie, Berlin, 14.5. - 27.6.1999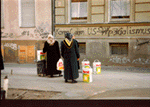 City Pity 2 took place in Berlin and involved international as well as local artists.